Caribou in Covid: Contests are running online as usual. Check out the FAQ for further questions.
ប្រវត្តិសាស្រ្ត
English | Français | فارسی | 中文 | Українська | Azerbaijani| ខ្មែរ | Tiếng Việt| Bahasa Melayu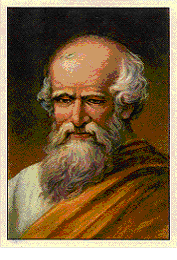 Archimedes ialah seorang ahli matematik, fizik, jurutera, pencipta dan ahli astronomi Yunani. Beliau dilahirkan pada 287 SM di Syracuse, Sicily. Walaupun beberapa butiran kehidupannya diketahui, Archimedes secara amnya dianggap sebagai ahli matematik terhebat pada zaman dahulu dan salah seorang yang terhebat sepanjang zaman. Dia mencipta pam untuk menaikkan air dari sungai dan "cermin terbakar" parabola, yang digunakan untuk memfokuskan sinaran matahari pada kapal kayu yang menyerang, dengan itu membakarnya.
Mungkin salah satu cerita yang paling terkenal tentangnya ialah penemuannya tentang prinsip keapungan. Keapungan ialah daya ke atas yang dikenakan oleh bendalir (seperti air) yang berfungsi sama ada untuk memastikan objek terapung atau memperlahankan penurunannya ke dalam bendalir. Sejarah menyatakan bahawa Archimedes menemui prinsip keapungan semasa mandi dan teruja kerana dia berlari telanjang ke jalan sambil menjerit "Eureka!".
Archimedes juga dikreditkan dengan perkembangan beberapa idea kalkulus, hampir 2000 tahun sebelum penciptaannya oleh Sir Isaac Newton dan Gottfried Leibniz; Dia juga dikenali kerana penghampiran pi (π) yang luar biasa dan tepat.
Dalam karyanya "The Sand Reckoner", Archimedes menetapkan tugas yang mustahil untuk mengira bilangan butiran pasir yang boleh terkandung di alam semesta. Beliau mencabar bahawa ia tidak mustahil untuk dilakukan, walaupun butiran pasir terlalu kecil atau terlalu banyak untuk dikira. Untuk menyelesaikan masalah butiran pasir, Archimedes mencipta sistem berdasarkan segudang atau "tidak boleh dikira" dalam bahasa Yunani (Ia juga dilambangkan 10,000 dalam sistem nombor Yunani). Dia menetapkan sistem nombor menggunakan kuasa berjuta-juta (10 000 x 10 000 = 100 juta) dan akhirnya mengira bilangan butiran pasir di alam semesta sebagai 8 x 1063 butir. Archimedes meninggal dunia pada 212 B.C. di Syracuse.
Rujukan:
Musser, Gary. Burger, William. Peterson, Blake. Mathematics For Elementary Teachers: A Contemporary Approach, 6th ed.; Wiley.
Burton, D.M. The History of Mathematics: An Introduction, 5th ed.; McGraw-Hill: New York, 2003.
http://www.ancientgreece.com/s/People/Archimedes/
http://en.wikipedia.org/wiki/Archimedes