Caribou in Covid: Contests are running online as usual. Check out the FAQ for further questions.
Sejarah Matematik
English | Français | فارسی | 中文 | Українська | Azerbaijani| ខ្មែរ | Tiếng Việt| Bahasa Melayu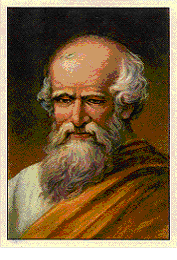 Archimedes ialah seorang ahli matematik, fizik, jurutera, pencipta dan ahli astronomi Yunani. Beliau dilahirkan pada 287 SM di Syracuse, Sicily. Walaupun beberapa butiran kehidupannya diketahui, Archimedes secara amnya dianggap sebagai ahli matematik terhebat pada zaman dahulu dan salah seorang yang terhebat sepanjang zaman. Dia mencipta pam untuk menaikkan air dari sungai dan "cermin terbakar" parabola, yang digunakan untuk memfokuskan sinaran matahari pada kapal kayu yang menyerang, dengan itu membakarnya.
Mungkin salah satu cerita yang paling terkenal tentangnya ialah penemuannya tentang prinsip keapungan. Keapungan ialah daya ke atas yang dikenakan oleh bendalir (seperti air) yang berfungsi sama ada untuk memastikan objek terapung atau memperlahankan penurunannya ke dalam bendalir. Sejarah menyatakan bahawa Archimedes menemui prinsip keapungan semasa mandi dan teruja kerana dia berlari telanjang ke jalan sambil menjerit "Eureka!".
Archimedes juga dikreditkan dengan perkembangan beberapa idea kalkulus, hampir 2000 tahun sebelum penciptaannya oleh Sir Isaac Newton dan Gottfried Leibniz; Dia juga dikenali kerana penghampiran pi (π) yang luar biasa dan tepat.
Dalam karyanya "The Sand Reckoner", Archimedes menetapkan tugas yang mustahil untuk mengira bilangan butiran pasir yang boleh terkandung di alam semesta. Beliau mencabar bahawa ia tidak mustahil untuk dilakukan, walaupun butiran pasir terlalu kecil atau terlalu banyak untuk dikira. Untuk menyelesaikan masalah butiran pasir, Archimedes mencipta sistem berdasarkan segudang atau "tidak boleh dikira" dalam bahasa Yunani (Ia juga dilambangkan 10,000 dalam sistem nombor Yunani). Dia menetapkan sistem nombor menggunakan kuasa berjuta-juta (10 000 x 10 000 = 100 juta) dan akhirnya mengira bilangan butiran pasir di alam semesta sebagai 8 x 1063 butir. Archimedes meninggal dunia pada 212 B.C. di Syracuse.
Rujukan:
Musser, Gary. Burger, William. Peterson, Blake. Mathematics For Elementary Teachers: A Contemporary Approach, 6th ed.; Wiley.
Burton, D.M. The History of Mathematics: An Introduction, 5th ed.; McGraw-Hill: New York, 2003.
http://www.ancientgreece.com/s/People/Archimedes/
http://en.wikipedia.org/wiki/Archimedes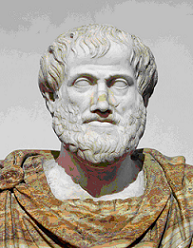 Aristotle was a Greek philosopher who was born in 384 BC and died in 322 BC. He studied almost every subject possible at the time as well as contributed to a majority of them. He is well known to be the last person to know everything that there was to be known - what was known at that time, at least. Aristotle's contribution to mathematics lie in the logic field. For example, the fact that "all humans are mortal" and "all Greeks are humans" allowed him to conclude that "all Greeks are mortal," thus discovering what are now called validity rules. He also opened a school called the Lyceum. He taught several courses there for twelve years following its opening day. A large amount of his work is lost.
Aristotle ialah seorang ahli falsafah Yunani yang dilahirkan pada tahun 384 SM dan meninggal dunia pada tahun 322 SM. Dia mempelajari hampir setiap subjek yang mungkin pada masa itu serta menyumbang kepada majoriti daripada mereka. Dia terkenal sebagai orang terakhir yang mengetahui segala-galanya yang perlu diketahui - sekurang-kurangnya apa yang diketahui pada masa itu. Sumbangan Aristotle kepada matematik terletak pada bidang logik. Sebagai contoh, fakta bahawa "semua manusia adalah fana" dan "semua orang Yunani adalah manusia" membolehkannya membuat kesimpulan bahawa "semua orang Yunani adalah fana," dengan itu menemui apa yang kini dipanggil peraturan kesahihan. Dia juga membuka sekolah bernama Lyceum. Beliau mengajar beberapa kursus di sana selama dua belas tahun selepas hari pembukaannya. Sebilangan besar kerjanya hilang.
Rujukan:
http://www.edu.pe.ca/kish/Grassroots/math/aristotl.htm
http://en.wikipedia.org/wiki/Aristotle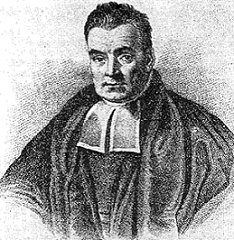 Thomas Bayes, born in 1701, was an English mathematician and a Presbyterian minister. He formulated a theorem called Bayes' theorem about inverse probability. One often thinks about being given how many red and blue marbles are in a box and being asked to calculate the probability of picking a blue marble whereas Bayes was interested in being given the probability of picking a blue or red marble from a box and having to calculate how many red and blue marbles were in the box. Interestingly and unfortunately enough, his most famous accomplishment lay in his rough notes which were edited and published by Richard Price shortly after Bayes' death.
Thomas Bayes, dilahirkan pada tahun 1701, adalah seorang ahli matematik Inggeris dan menteri Presbyterian. Dia merumuskan teorem yang dipanggil teorem Bayes tentang kebarangkalian songsang. Seseorang sering berfikir tentang diberi berapa banyak guli merah dan biru dalam kotak dan diminta mengira kebarangkalian untuk memilih guli biru manakala Bayes berminat untuk diberi kebarangkalian untuk memilih guli biru atau merah dari kotak dan perlu hitung berapa banyak guli merah dan biru di dalam kotak itu. Menarik dan malangnya, pencapaiannya yang paling terkenal terletak pada catatan kasarnya yang telah disunting dan diterbitkan oleh Richard Price sejurus selepas kematian Bayes.
Rujukan:
http://bayesian.org/bayes
http://en.wikipedia.org/wiki/Thomas_Bayes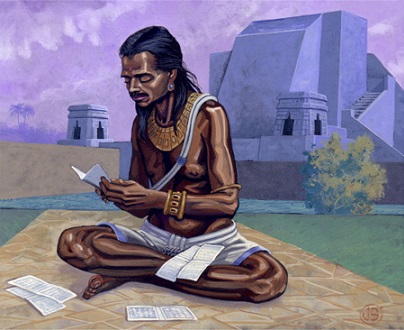 Brahmagupta was one of the greatest 7th century Indian mathematicians and astronomers. He was from the state of Rajasthan of northwest India. One of the topics he considered are whole number solutions of what today are called Pell's equations like x2 − 92y2 = 1, and said, "[a person solving this problem] within a year [is] a mathematician."
Brahmagupta explained how to find the cube and cube-root of an integer and found explicit formulas for the sum of the squares of the first n natural numbers and the sum of the cubes of the first n natural numbers. His biggest contribution, however, was his treatment of the (then relatively new) number zero. He came up with rules to add, subtract, and multiply numbers by zero. His "Brahmasphutasiddhanta" is the earliest known text to acknowledge zero as a number rather than just a placeholder digit or a symbol representing a lack of quantity.
Brahmagupta adalah salah seorang ahli matematik dan astronomi India abad ke-7 yang terhebat. Dia berasal dari negeri Rajasthan di barat laut India. Salah satu topik yang dia pertimbangkan ialah penyelesaian nombor bulat apa yang hari ini dipanggil persamaan Pell seperti x2 − 92y2 = 1, dan berkata, "[seseorang yang menyelesaikan masalah ini] dalam masa setahun [adalah] ahli matematik."
Brahmagupta menerangkan cara mencari kubus dan punca kubus bagi integer dan menemui formula eksplisit untuk hasil tambah kuasa dua bagi n nombor asli pertama dan hasil tambah kubus n nombor asli pertama. Sumbangan terbesarnya, bagaimanapun, adalah layanannya terhadap nombor sifar (ketika itu agak baharu). Dia membuat peraturan untuk menambah, menolak dan mendarab nombor dengan sifar. "Brahmasphutasiddhanta" beliau ialah teks terawal yang diketahui untuk mengakui sifar sebagai nombor dan bukannya sekadar digit pemegang tempat atau simbol yang mewakili kekurangan kuantiti.
Rujukan:
https://www.storyofmathematics.com/indian_brahmagupta.html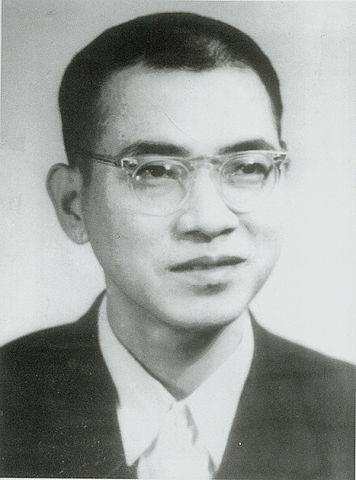 Chen Jingrun (May 22, 1933 – March 19, 1996) was a Chinese mathematician who made significant contributions to number theory. His work on the twin prime conjecture, Waring's problem, Goldbach's conjecture and Legendre's conjecture led to progress in analytic number theory. In a 1966 paper he proved what is now called Chen's theorem: every sufficiently large even number can be written as the sum of a prime and a semiprime (the product of two primes) – e.g., 100 = 23 + 7·11.
Chen Jingrun (22 Mei 1933 - 19 Mac 1996) ialah seorang ahli matematik Cina yang memberikan sumbangan penting kepada teori nombor. Kerjanya mengenai tekaan perdana berkembar, masalah Waring, sangkaan Goldbach dan sangkaan Legendre membawa kepada kemajuan dalam teori nombor analitik. Dalam makalah 1966 dia membuktikan apa yang kini dipanggil teorem Chen: setiap nombor genap yang cukup besar boleh ditulis sebagai hasil tambah perdana dan semiprima (hasil dua nombor perdana) – contohnya, 100 = 23 + 7·11.
Rujukan:
https://en.wikipedia.org/wiki/Chen_Jingrun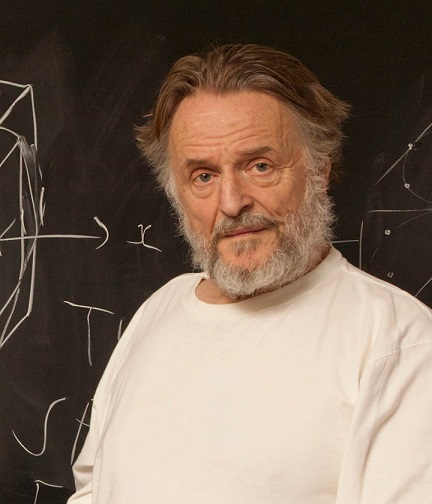 John Horton Conway FRS (26 Disember 1937 – 11 April 2020) ialah seorang ahli matematik Inggeris yang aktif dalam teori kumpulan terhingga, teori simpulan, teori nombor, teori permainan kombinatorial dan teori pengekodan. Banyak Permainan Interaktif Caribou telah dipengaruhi oleh penyelidikannya, termasuk permainan gabungan seperti Hackenbush atau Chomp, Sliding Blocks dan permainan knot yang sedang dibangunkan.
Conway turut memberi sumbangan kepada banyak cabang matematik rekreasi, terutamanya ciptaan automaton selular dua dimensi yang dipanggil Game of Life, membantu melancarkan satu bidang baharu matematik dengan aplikasi dalam sains komputer, fizik dan teori. biologi. Dalam automata selular, seseorang mengkaji tingkah laku grid sel terhingga di mana setiap sel mempunyai satu keadaan di antara bilangan keadaan terhingga pada setiap titik masa, dan keadaan setiap sel berubah apabila masa berlalu mengikut beberapa set peraturan, lazimnya fungsi matematik. Beliau juga terkenal dengan penemuan nombor surreal.
Dilahirkan dan dibesarkan di Liverpool, pada usia 11 tahun Conway bercita-cita untuk menjadi seorang ahli matematik. Beliau menghabiskan separuh pertama kerjayanya di Universiti Cambridge sebelum berpindah ke negeri New Jersey A.S., di mana beliau memegang gelaran Profesor Emeritus John von Neumann di Universiti Princeton sepanjang kariernya, bersara pada 2013. Pada 11 April 2020, pada usia 82 tahun, dia meninggal dunia akibat komplikasi daripada COVID-19.
Rujukan:
https://en.wikipedia.org/wiki/John_Horton_Conway
https://en.wikipedia.org/wiki/Cellular_automaton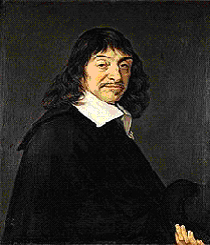 Rene Descartes was a French philosopher and mathematician born on March 31 1596 in Touraine, France. Descartes has been credited the "Father of Modern Philosophy" and the "Father of Analytical Geometry", which is the branch between algebra and geometry. Before Descartes' time, the subjects of algebra and geometry had developed in parallel tracks, until he developed a method of joining them. This important contribution allowed Descartes, alongside Newton and Leibniz, to provide the foundations of modern calculus. The coordinate system used today in analytic geometry is called the Cartesian coordinate system in his honor.
Descartes' analytical geometry was designed to study the mathematical attributes of lines and curves by representing them via equations. One of the most important contributions Descartes made were his philosophical writings. Descartes, who was convinced that science and mathematics could be used to explain everything in nature, was the first to describe the physical universe in terms of motion and matter, seeing the universe as a giant mathematically designed engine.
Rene Descartes wrote three important texts: (1) Discourse of the Method of Rightly Conducting the Reason and Seeking Truth in the Sciences, (2) Meditations on First Philosophy, and (3) Principles of Philosophy.
Descartes had always been a fragile individual, he would often spend most of his mornings in bed, where he did most of his thinking, fresh from dreams in which he often had his revelations. In his later years, Descartes had to relocate to Sweden to tutor Queen Christina in philosophy. Unfortunately, the Queen was an early riser who wanted her lessons at 5:00 o'clock in the morning. This schedule did not help Descartes fragile health. He contracted pneumonia, from which he died on February 11, 1650 at the age of 54.
Descartes' Famous preposition: Cogito ergo sum - "I think, therefore I am."
Rene Descartes ialah seorang ahli falsafah dan ahli matematik Perancis yang dilahirkan pada 31 Mac 1596 di Touraine, Perancis. Descartes telah dikreditkan sebagai "Bapa Falsafah Moden" dan "Bapa Geometri Analitik", yang merupakan cabang antara algebra dan geometri. Sebelum zaman Descartes, subjek algebra dan geometri telah berkembang dalam landasan selari, sehingga dia membangunkan kaedah untuk bergabung dengan mereka. Sumbangan penting ini membolehkan Descartes, bersama Newton dan Leibniz, menyediakan asas-asas kalkulus moden. Sistem koordinat yang digunakan hari ini dalam geometri analitik dipanggil sistem koordinat Cartesian sebagai penghormatan kepadanya.
Geometri analitik Descartes telah direka bentuk untuk mengkaji sifat-sifat matematik garis dan lengkung dengan mewakilinya melalui persamaan. Salah satu sumbangan terpenting Descartes ialah penulisan falsafahnya. Descartes, yang yakin bahawa sains dan matematik boleh digunakan untuk menerangkan segala-galanya di alam semula jadi, adalah yang pertama menggambarkan alam semesta fizikal dari segi gerakan dan jirim, melihat alam semesta sebagai enjin gergasi yang direka bentuk secara matematik.
Rene Descartes menulis tiga teks penting: (1) Wacana Kaedah Mengendalikan Akal dengan Benar dan Mencari Kebenaran dalam Sains, (2) Meditasi tentang Falsafah Pertama, dan (3) Prinsip Falsafah.
Descartes sentiasa menjadi individu yang rapuh, dia sering menghabiskan sebahagian besar waktu paginya di atas katil, di mana dia melakukan kebanyakan pemikirannya, segar dari mimpi di mana dia sering mendapat wahyu. Pada tahun-tahun kemudiannya, Descartes terpaksa berpindah ke Sweden untuk mengajar Queen Christina dalam bidang falsafah. Malangnya, Ratu adalah seorang yang bangun awal yang mahukan pelajarannya pada pukul 5:00 pagi. Jadual ini tidak membantu kesihatan Descartes yang rapuh. Dia dijangkiti radang paru-paru, yang mana dia meninggal dunia pada 11 Februari 1650 pada usia 54 tahun.
Preposisi Terkenal Descartes: Cogito ergo sum - "Saya fikir, oleh itu saya ada."
Rujukan:
Burton, D.M. The History of Mathematics: An Introduction, 5th ed.; McGraw-Hill: New York, 2003.
http://plato.stanford.edu/entries/descartes/
http://www.iep.utm.edu/descarte/
Musser, Gary. Burger, William. Peterson, Blake. Mathematics For Elementary Teachers: A Contemporary Approach, 6th ed.; Wiley.
https://en.wikipedia.org/wiki/Ren%C3%A9_Descartes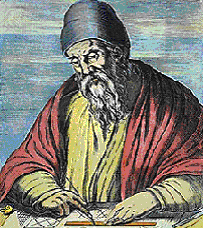 Euclid was a Greek mathematician, and often referred to as the "Father of Geometry", born in about 325 BC. Little is known about Euclid's life, as there are only a handful of references to him. The date and place of Euclid's birth and the date and circumstances of his death are unknown and only roughly estimated in proximity to contemporary figures mentioned in references. The few historical references to Euclid were written centuries after he lived, by Proclus and Pappus of Alexandria. Very little is known of Euclid's life except that he taught in Alexandria. In his book Elements, Euclid deduced the principles of what is now called Euclidean geometry. Euclid died in 265 BC in Alexandria, Egypt.
Euclid ialah seorang ahli matematik Yunani, dan sering dirujuk sebagai "Bapa Geometri", dilahirkan pada kira-kira 325 SM. Sedikit yang diketahui tentang kehidupan Euclid, kerana hanya terdapat segelintir rujukan kepadanya. Tarikh dan tempat kelahiran Euclid serta tarikh dan keadaan kematiannya tidak diketahui dan hanya dianggarkan secara kasar berdekatan dengan tokoh kontemporari yang disebut dalam rujukan. Beberapa rujukan sejarah kepada Euclid telah ditulis berabad-abad selepas dia hidup, oleh Proclus dan Pappus dari Alexandria. Sangat sedikit yang diketahui tentang kehidupan Euclid kecuali dia mengajar di Alexandria. Dalam bukunya Elements, Euclid menyimpulkan prinsip apa yang kini dipanggil geometri Euclidean. Euclid meninggal dunia pada 265 SM di Alexandria, Mesir.
Rujukan:
Musser, Gary. Burger, William. Peterson, Blake. Mathematics For Elementary Teachers: A Contemporary Approach, 6th ed.; Wiley.
Burton, D.M. The History of Mathematics: An Introduction, 5th ed.; McGraw-Hill: New York, 2003.
http://www.businessinsider.com/important-mathematicians-modern-world-2012-7?op=1
https://en.wikipedia.org/wiki/Euclid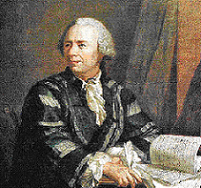 Leonard Euler was a pioneering Swiss mathematician and physicist born on April 15 1707 in Basel, Switzerland. He made remarkable contributions to the fields of infinitesimal calculus and graph theory. Euler also introduced much of the modern mathematical terminology and notation, particularly for mathematical analysis, such as the notion of mathematical functions. For example, the modern use of the symbol π is due to Euler.
In geometry, he is best known for the Euler line of a triangle and the formula F + V = E + 2. In this formula, Euler relates the number of faces (F), vertices (V) and edges (E) of a polyhedron in a three-dimension space.
Early in his career, Euler lost sight in his right eye, most probably due to overwork. He published more than 500 books and papers during his lifetime, and it has been computed that his publications during his working life averaged about 800 pages a year. From 1771 on, he was totally blind, yet his mathematical discoveries continued. He would work mentally, and then dictate to assistants, often times using a large chalkboard on which to write the formulas for them.
Euler also derived the base of the natural logarithm with e, also known as Euler's number, as a mathematical constant approximately equal to 2.71828. e is the limit of (1 + 1/n)n as n approaches infinity.
Euler died in 1783 at the age of 76 still active to the end.
Leonard Euler ialah seorang ahli matematik dan ahli fizik Switzerland yang dilahirkan pada 15 April 1707 di Basel, Switzerland. Beliau membuat sumbangan yang luar biasa kepada bidang kalkulus dan teori graf yang sangat kecil. Euler juga memperkenalkan banyak istilah dan tatatanda matematik moden, khususnya untuk analisis matematik, seperti pengertian fungsi matematik. Sebagai contoh, penggunaan moden simbol π adalah disebabkan oleh Euler.
Dalam geometri, beliau terkenal dengan garis Euler bagi segi tiga dan formula F + V = E + 2. Dalam formula ini, Euler mengaitkan bilangan muka (F), bucu (V) dan tepi (E) sesuatu polihedron dalam ruang tiga dimensi.
Pada awal kerjayanya, Euler kehilangan penglihatan di mata kanannya, kemungkinan besar disebabkan terlalu banyak bekerja. Beliau menerbitkan lebih daripada 500 buku dan makalah semasa hayatnya, dan telah dikira bahawa penerbitan beliau semasa hayat bekerja purata kira-kira 800 muka surat setahun. Sejak 1771, dia buta sepenuhnya, namun penemuan matematiknya berterusan. Dia akan bekerja secara mental, dan kemudian mengimlak kepada pembantu, sering kali menggunakan papan kapur besar untuk menulis formula untuk mereka.
Euler juga memperoleh asas logaritma asli dengan e, juga dikenali sebagai nombor Euler, sebagai pemalar matematik lebih kurang sama dengan 2.71828. e ialah had bagi (1 + 1/n)n apabila n menghampiri ketakterhinggaan.
Euler meninggal dunia pada tahun 1783 pada usia 76 tahun masih aktif hingga akhir.
Rujukan:
Musser, Gary. Burger, William. Peterson, Blake. Mathematics For Elementary Teachers: A Contemporary Approach, 6th ed.; Wiley.
http://mathsforeurope.digibel.be/Euler.html#4. The proposition of Euler.
http://www.businessinsider.com/important-mathematicians-modern-world-2012-7?op=1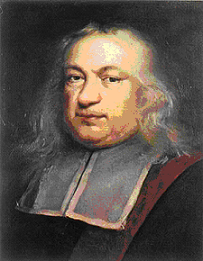 Pierre de Fermat, born on August 17, 1607, was a French lawyer and an amateur mathematician who contributed work that ultimately led to infinitesimal calculus, including his adequality technique. Fermat and René Descartes were the two leading mathematicians of the beginning of the 17th century. He is best known for Fermat's Last Theorem, which is that "no three positive integers a, b, and c can satisfy the equation an + bn = cn for any integer value of n greater than two".
Fermat wrote his Last Theorem in the margin of a book. He claimed that he didn't have room to write a proof of the theorem. The proof was unable to be found for over 350 years since other mathematicians were unable to deduce it. Andrew Wiles tried and failed to prove it, but later succeeded alongside Richard Taylor.
Pierre de Fermat, dilahirkan pada 17 Ogos 1607, adalah seorang peguam Perancis dan ahli matematik amatur yang menyumbang kerja yang akhirnya membawa kepada kalkulus yang sangat kecil, termasuk teknik ketaksamaannya. Fermat dan René Descartes adalah dua ahli matematik terkemuka pada permulaan abad ke-17. Beliau terkenal dengan Teorem Terakhir Fermat, iaitu "tiada tiga integer positif a, b, dan c dapat memenuhi persamaan an + bn = cn untuk sebarang nilai integer n lebih besar daripada dua".
Fermat menulis Teorem Terakhirnya di tepi buku. Dia mendakwa bahawa dia tidak mempunyai ruang untuk menulis bukti teorem itu. Buktinya tidak dapat ditemui selama lebih 350 tahun kerana ahli matematik lain tidak dapat menyimpulkannya. Andrew Wiles mencuba dan gagal membuktikannya, tetapi kemudiannya berjaya bersama Richard Taylor.
Rujukan:
Musser, Gary. Burger, William. Peterson, Blake. Mathematics For Elementary Teachers: A Contemporary Approach, 6th ed.; Wiley.
http://en.wikipedia.org/wiki/Pierre_de_Fermat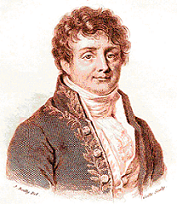 Joseph Fourier, born March 21, 1768, was a French mathematician and physicist. He was orphaned at age nine and accepted a military lectureship on mathematics after being educated, contributing many mathematics papers to the Egyptian Institute. Napolean Bonaparte appointed Fourier as Prefect (Governor) of the Department of Isère in Grenoble where he supervised construction projects after resuming his academic post as professor at école Polytechnique. He is best known for discovering the Fourier series and their applications to various problems in the topics of heat transfer and vibrations. The Fourier transform and Fourier's Law are also named in his honour. He is also credited with the discovery of the greenhouse effect.
Joseph Fourier, dilahirkan pada 21 Mac 1768, ialah seorang ahli matematik dan fizik Perancis. Beliau menjadi yatim piatu pada usia sembilan tahun dan menerima pensyarah ketenteraan dalam matematik selepas mendapat pendidikan, menyumbang banyak kertas matematik kepada Institut Mesir. Napolean Bonaparte melantik Fourier sebagai Pengawas (Gabenor) Jabatan Isère di Grenoble di mana beliau menyelia projek pembinaan selepas menyambung semula jawatan akademiknya sebagai profesor di Ecole Polytechnique. Beliau terkenal kerana menemui siri Fourier dan aplikasinya untuk pelbagai masalah dalam topik pemindahan haba dan getaran. Transformasi Fourier dan Undang-undang Fourier juga dinamakan sebagai penghormatan kepadanya. Dia juga dikreditkan dengan penemuan kesan rumah hijau.
Rujukan:
http://scienceworld.wolfram.com/biography/Fourier.html
http://en.wikipedia.org/wiki/Joseph_Fourier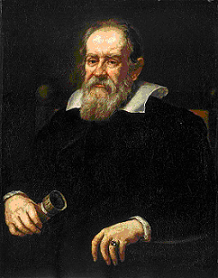 Galileo Galilei was born on February 15, 1564 in Pisa, Italy. He is well known as the first modern scientist. His father wanted him to study medicine, so Galileo enrolled in the University of Pisa to do so but dropped out shortly after to pursue his passion in both mathematics and mechanics. Among his many contributions to mathematics, he devised and improved a Geometric and Military Compass. He also understood the parabola extremely well. Galileo was offered the position of a chair in mathematics at the University of Padua, which he gratefully accepted and worked for eighteen years as one.
Galileo was found to be a suspect of heresy since he believed that the Sun stays still at the centre of the universe, whereas Earth does not stay still nor is it at the centre of the universe. This belief contrasted to Holy Scripture. He was sentenced to formal imprisonment, and then was commuted to house arrest for the remainder of his life - not being allowed to publish any of his works from then on. He then died on January 8, 1642 after suffering from fever, heart palpitations and more. He wished to be buried alongside his father, but was denied this wish by the Church because of the crime he was accused for.
Galileo Galilei dilahirkan pada 15 Februari 1564 di Pisa, Itali. Beliau terkenal sebagai saintis moden pertama. Bapanya mahu dia belajar perubatan, jadi Galileo mendaftar di Universiti Pisa untuk berbuat demikian tetapi berhenti sejurus selepas itu untuk mengejar minatnya dalam kedua-dua matematik dan mekanik. Di antara banyak sumbangannya kepada matematik, beliau mencipta dan menambah baik Kompas Geometrik dan Ketenteraan. Dia juga memahami parabola dengan sangat baik. Galileo ditawarkan jawatan sebagai kerusi dalam matematik di Universiti Padua, yang diterimanya dengan penuh rasa syukur dan bekerja selama lapan belas tahun sebagai satu.
Galileo didapati sebagai suspek ajaran sesat kerana dia percaya bahawa Matahari kekal di pusat alam semesta, sedangkan Bumi tidak diam dan tidak juga berada di pusat alam semesta. Kepercayaan ini bertentangan dengan Kitab Suci. Dia dijatuhkan hukuman penjara rasmi, dan kemudian ditukar kepada tahanan rumah sepanjang hayatnya - tidak dibenarkan menerbitkan mana-mana karyanya sejak itu. Beliau kemudian meninggal dunia pada 8 Januari 1642 selepas mengalami demam, jantung berdebar-debar dan banyak lagi. Dia ingin dikebumikan bersama bapanya, tetapi hasrat ini ditolak oleh Gereja kerana jenayah yang dia dituduh.
Rujukan:
http://math.berkeley.edu/~robin/Galileo/life.html
http://en.wikipedia.org/wiki/Galileo_Galilei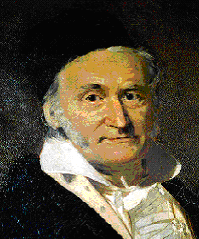 Carl Gauss was a German mathematician and physicist born on April 30 1777 in Braunschweig, Holy Roman Empire. Often times referred to as the Princeps mathematicorum (Latin for "The Prince of Mathematicians"), Gauss had a remarkable influence in many fields of mathematics including number theory, algebra, statistics, analysis, and differential geometry. He referred to mathematics as "the queen of sciences".
There are several stories about Gauss at a very young age. According to one, his gifts became evident when at the age of three he mentally and without fault in his calculations, corrected an error that his father had made on paper while calculating finances. Another famous story tells that in primary school, after the young Gauss misbehaved, his teacher, J.G. Büttner, gave him the task of adding a list of integers from 1 to 100, in arithmetic progression. The young Gauss apparently produced the correct answer within seconds, to the astonishment of his teacher and his assistant Martin Bartels. Gauss method was based on a pairwise addition of terms from opposite ends of the list, which gave identical intermediate sums. For example: 1 + 100 = 101, 2 + 99 = 101, 3 + 98 = 101, and so on, for a total sum of 50 x 101 = 5050.
At the age of 18, Gauss devised a method for constructing a 17-sided regular polygon, using only a compass and a straightedge. Remarkably, he then derived a general rule that predicted which regular polygons are similarly constructible. In 1807 he became the director of the astronomical observatory at Gottingen, Germany, where he served until his death. Gauss died on February 25, 1855.
Carl Gauss ialah seorang ahli matematik dan fizik Jerman yang dilahirkan pada 30 April 1777 di Braunschweig, Empayar Rom Suci. Sering kali disebut sebagai Princeps mathematicorum (Latin untuk "The Prince of Mathematicians"), Gauss mempunyai pengaruh yang luar biasa dalam banyak bidang matematik termasuk teori nombor, algebra, statistik, analisis, dan geometri pembezaan. Beliau merujuk kepada matematik sebagai "ratu sains".
Terdapat beberapa cerita tentang Gauss pada usia yang sangat muda. Menurut seorang, pemberiannya menjadi jelas apabila pada usia tiga tahun dia secara mental dan tanpa kesalahan dalam pengiraannya, membetulkan kesilapan yang dilakukan bapanya di atas kertas semasa mengira kewangan. Satu lagi kisah terkenal memberitahu bahawa di sekolah rendah, selepas Gauss muda berkelakuan buruk, gurunya, J.G. Büttner, memberinya tugas untuk menambah senarai integer dari 1 hingga 100, dalam janjang aritmetik. Gauss muda nampaknya menghasilkan jawapan yang betul dalam beberapa saat, yang mengejutkan gurunya dan pembantunya Martin Bartels. Kaedah Gauss adalah berdasarkan penambahan berpasangan istilah dari hujung yang bertentangan senarai, yang memberikan jumlah perantaraan yang sama. Contohnya: 1 + 100 = 101, 2 + 99 = 101, 3 + 98 = 101, dan seterusnya, untuk jumlah keseluruhan 50 x 101 = 5050.
Pada usia 18 tahun, Gauss telah mencipta kaedah untuk membina poligon sekata 17 sisi, hanya menggunakan kompas dan garis lurus. Hebatnya, dia kemudiannya memperoleh peraturan am yang meramalkan poligon sekata yang sama boleh dibina. Pada tahun 1807 beliau menjadi pengarah balai cerap astronomi di Göttingen, Jerman, tempat beliau berkhidmat sehingga kematiannya. Gauss meninggal dunia pada 25 Februari 1855.
Rujukan:
Musser, Gary. Burger, William. Peterson, Blake. Mathematics For Elementary Teachers: A Contemporary Approach, 6th ed.; Wiley.
http://en.wikipedia.org/wiki/Carl_Friedrich_Gauss#Anecdotes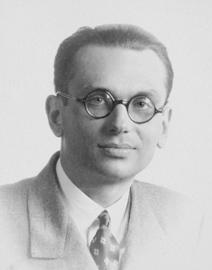 Kurt Friedrich Gödel, born on April 28, 1906, was an Austrian logician, mathematician, and philosopher. Considered alongside Aristotle and Frege to be one of the most important logicians known, he made a significant impact upon scientific and philosophical thinking in the 20th century by publishing his two incompleteness theorems when he was just 25 years old, only a year after finishing his doctorate at the University of Vienna. Gödel developed a technique called Gödel numbering to prove the first theorem, which codes formal expressions as natural numbers. He also clarified the relations between classical, intuitionistic, and modal logic.
When Gödel aged, he suffered periods of both mental instability and illness. He was obsessively paranoid of being poisoned, leading him to only eat food that his wife served him. When he was hospitalized for 6 months and unable to care for him, Gödel refused to eat and starved to death because of it.
Kurt Friedrich Gödel, dilahirkan pada 28 April 1906, ialah seorang ahli logik, ahli matematik, dan ahli falsafah Austria. Dianggap bersama Aristotle dan Frege sebagai salah seorang ahli logik yang paling penting yang diketahui, beliau telah memberi impak yang besar terhadap pemikiran saintifik dan falsafah pada abad ke-20 dengan menerbitkan dua teorem ketidaklengkapan beliau ketika beliau baru berusia 25 tahun, hanya setahun selepas menamatkan pengajian kedoktorannya. di Universiti Vienna. Gödel membangunkan teknik yang dipanggil penomboran Gödel untuk membuktikan teorem pertama, yang mengodkan ungkapan formal sebagai nombor asli. Beliau juga menjelaskan hubungan antara logik klasik, intuisi, dan modal.
Apabila Gödel berumur, dia mengalami tempoh ketidakstabilan mental dan penyakit. Dia terlalu paranoid kerana diracuni, menyebabkan dia hanya makan makanan yang dihidangkan oleh isterinya. Apabila dia dimasukkan ke hospital selama 6 bulan dan tidak dapat menjaganya, Gödel enggan makan dan mati kelaparan kerananya.
Rujukan:
http://www-history.mcs.st-and.ac.uk/Biographies/Godel.html
http://en.wikipedia.org/wiki/Kurt_Godel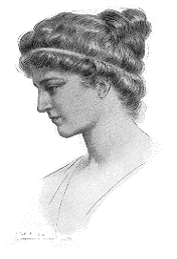 Hypatia of Alexandria, born in 350 AD, was the first woman to make a substantial contribution to the development of mathematics that are still known. Hypatia was the daughter of the mathematician and philosopher Theon of Alexandria and it is fairly certain that she studied mathematics under the guidance and instruction of her father. At the university in Alexandria, she was a famous lecturer in mathematics and philosophy, but it is rather unknown if she held an actual teaching position. Hypatia came to symbolize learning and science which the early Christians identified with paganism. However, among the pupils who she taught in Alexandria there were many prominent Christians. One of the most famous is Synesius of Cyrene who was later to become the Bishop of Ptolemais. Hypatia became a victim of the prejudice of her time. There were periodic outbreaks of violence, and during one of these incidents Hypatia was killed by a mob of Christian fanatics.
Hypatia of Alexandria, dilahirkan pada 350 AD, adalah wanita pertama yang memberikan sumbangan besar kepada perkembangan matematik yang masih dikenali. Hypatia adalah anak perempuan kepada ahli matematik dan ahli falsafah Theon dari Alexandria dan agak pasti bahawa dia belajar matematik di bawah bimbingan dan arahan bapanya. Di universiti di Alexandria, dia adalah seorang pensyarah terkenal dalam matematik dan falsafah, tetapi agak tidak diketahui jika dia memegang jawatan mengajar yang sebenar. Hypatia datang untuk melambangkan pembelajaran dan sains yang orang Kristian awal mengenal pasti dengan paganisme. Walau bagaimanapun, di kalangan murid yang dia ajar di Iskandariah terdapat ramai penganut Kristian yang terkemuka. Salah seorang yang paling terkenal ialah Synesius dari Kirene yang kemudiannya menjadi Uskup Ptolemais. Hypatia menjadi mangsa prasangka pada zamannya. Terdapat wabak keganasan berkala, dan semasa salah satu insiden ini Hypatia telah dibunuh oleh kumpulan fanatik Kristian.
Rujukan:
http://www-history.mcs.st-and.ac.uk/Biographies/Hypatia.html
Musser, Gary. Burger, William. Peterson, Blake. Mathematics For Elementary Teachers: A Contemporary Approach, 6th ed.; Wiley.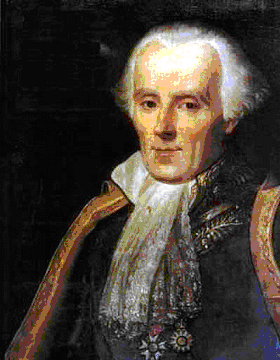 Pierre-Simon Laplace was a French mathematician and astronomer who was born on March 23, 1749 and died on March 5, 1827 without whom mathematical astronomy and statistics would be nowhere near as advanced as they are today. He is often called the Newton of France. He wrote a five-volume summary of his work called Mécanique Céleste from 1799 until 1825.
He was sent to the University of Caen by his father to read theology when he was old enough. He didn't graduate in theology, but left for Paris instead when encouraged by two enthusiastic mathematics teachers to follow in their footsteps. Impressing d'Alembert by being able to solve difficult mathematics problems quickly, he was secured a position at the école Militaire. Secured with money, he then began his research.
He has much named after him - Laplace's equation, Laplace transform and Laplacian differential operator to name a few. He was also one of the first scientists to suggest that black holes exist. He became a count in 1806 and was named a marquis in 1817, being married with children by then.
Pierre-Simon Laplace ialah seorang ahli matematik dan ahli astronomi Perancis yang dilahirkan pada 23 Mac 1749 dan meninggal dunia pada 5 Mac 1827 tanpanya astronomi dan statistik matematik tidak akan maju seperti sekarang. Dia sering dipanggil Newton Perancis. Dia menulis ringkasan lima jilid karyanya yang dipanggil Mécanique Céleste dari 1799 hingga 1825.
Dia dihantar ke Universiti Caen oleh bapanya untuk membaca teologi apabila dia cukup dewasa. Dia tidak lulus dalam bidang teologi, tetapi sebaliknya pergi ke Paris apabila digalakkan oleh dua guru matematik yang bersemangat untuk mengikuti jejak mereka. Mengagumkan d'Alembert dengan dapat menyelesaikan masalah matematik yang sukar dengan cepat, dia mendapat jawatan di école Militaire. Dijamin dengan wang, dia kemudian memulakan penyelidikannya.
Dia mempunyai banyak nama sempena namanya - persamaan Laplace, transformasi Laplace dan pengendali pembezaan Laplacian untuk menamakan beberapa. Beliau juga merupakan salah seorang saintis pertama yang mencadangkan bahawa lubang hitam wujud. Dia menjadi kiraan pada tahun 1806 dan dinamakan sebagai marquis pada tahun 1817, telah berkahwin dengan anak ketika itu.
Rujukan:
http://www-history.mcs.st-and.ac.uk/Biographies/Laplace.html
http://en.wikipedia.org/wiki/Pierre-Simon_Laplace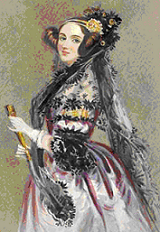 Ada Lovelace, born on December 10, 1815, was an English mathematician and writer. She worked on Charles Babbage's Analytical Engine (an early mechanical general-purpose computer). One of her Notes on the Analytical Engine was the first algorithm intended to be processed by a computer - she was the world's first computer programmer! She is also known as the first person who had a vision of computers going beyond arithmetic calculations. Ada first became interested in mathematics when she believed it would keep her from becoming "insane" like her father - though when she died in 1852, she requested to be buried next to him anyway.
Ada Lovelace, dilahirkan pada 10 Disember 1815, ialah seorang ahli matematik dan penulis Inggeris. Dia bekerja pada Enjin Analitik Charles Babbage (komputer kegunaan am mekanikal awal). Salah satu Nota beliau mengenai Enjin Analitik ialah algoritma pertama yang bertujuan untuk diproses oleh komputer - dia adalah pengaturcara komputer pertama di dunia! Dia juga dikenali sebagai orang pertama yang mempunyai visi komputer melangkaui pengiraan aritmetik. Ada mula berminat dalam matematik apabila dia percaya ia akan menghalangnya daripada menjadi "gila" seperti bapanya - walaupun apabila dia meninggal dunia pada tahun 1852, dia juga meminta untuk dikebumikan di sebelahnya.
Rujukan:
http://inventors.about.com/od/lstartinventors/p/Ada_Lovelace.htm
https://en.wikipedia.org/wiki/Ada_Lovelace
Gottfried Leibniz was a German mathematician and philosopher born on July 1 1646. He occupies a prominent place in the history of mathematics and philosophy. He was the son of Friedrich Leibniz, a professor of moral philosophy at Leipzig. Leibniz's mother was Catharina Schmuck, the daughter of a lawyer and Friedrich Leibniz's third wife. However, Friedrich Leibniz died when Leibniz was only six years old and he was brought up by his mother.
At the age of seven, Leibniz entered the Nicolai School in Leipzig. Although he was taught Latin at school, Leibniz had taught himself far more advanced Latin and some Greek by the age of 12, driven by his interest in reading his father's books. As he progressed through school he was taught Aristotle's logic and theory of categorising knowledge. Leibniz was clearly not satisfied with Aristotle's system and began to develop his own ideas on how to improve on it. Later in life, Leibniz recalls that at this time he was trying to find an order to the logical truths which, although he did not know it at the time, were the ideas behind rigorous mathematical proofs. As well as his school work, Leibniz studied his father's books. In particular he read metaphysics books and theology books from both Catholic and Protestant writers. Leibniz developed the infinitesimal calculus independently from Isaac Newton, and became one of the most prolific inventors in the field of mechanical calculators. Leibniz is also well known for refining the binary number system, which is at the foundation of virtually all digital computers. He died on November 14, 1716.
Gottfried Leibniz ialah seorang ahli matematik dan ahli falsafah Jerman yang dilahirkan pada 1 Julai 1646. Beliau menduduki tempat yang menonjol dalam sejarah matematik dan falsafah. Beliau adalah anak kepada Friedrich Leibniz, seorang profesor falsafah moral di Leipzig. Ibu Leibniz ialah Catharina Schmuck, anak kepada seorang peguam dan isteri ketiga Friedrich Leibniz. Bagaimanapun, Friedrich Leibniz meninggal dunia ketika Leibniz baru berusia enam tahun dan dia dibesarkan oleh ibunya.
Pada usia tujuh tahun, Leibniz memasuki Sekolah Nicolai di Leipzig. Walaupun dia diajar bahasa Latin di sekolah, Leibniz telah belajar bahasa Latin yang jauh lebih maju dan beberapa bahasa Yunani pada usia 12 tahun, didorong oleh minatnya membaca buku bapanya. Semasa dia maju melalui sekolah dia diajar logik dan teori Aristotle tentang pengkategorian pengetahuan. Leibniz jelas tidak berpuas hati dengan sistem Aristotle dan mula mengembangkan ideanya sendiri tentang cara memperbaikinya. Di kemudian hari, Leibniz teringat bahawa pada masa ini dia cuba mencari susunan kebenaran logik yang, walaupun dia tidak mengetahuinya pada masa itu, adalah idea di sebalik bukti matematik yang ketat. Selain kerja sekolahnya, Leibniz mempelajari buku ayahnya. Khususnya dia membaca buku metafizik dan buku teologi daripada kedua-dua penulis Katolik dan Protestan. Leibniz membangunkan kalkulus infinitesimal secara bebas daripada Isaac Newton, dan menjadi salah satu pencipta paling prolifik dalam bidang kalkulator mekanikal. Leibniz juga terkenal kerana memperhalusi sistem nombor binari, yang merupakan asas kepada hampir semua komputer digital. Beliau meninggal dunia pada 14 November 1716.
Rujukan:
http://www.businessinsider.com/important-mathematicians-modern-world-2012-7?op=1
http://www-history.mcs.st-andrews.ac.uk/Biographies/Leibniz.html
Liu Hui was a Chinese mathematician who lived in the state of Cao Wei during the Three Kingdoms period (220–280) of China. In 263, he wrote a book with solutions to problems presented in the famous Chinese book of mathematics, "The Nine Chapters on the Mathematical Art". In this book, he was possibly the first mathematician to discover, understand and use negative numbers, undoubtedly before Indian mathematician Brahmagupta. In his commentaries on the Nine Chapters, he presented: An algorithm for the calculation of π (pi), Gaussian elimination, Cavalieri's principle to find the volume of a cylinder and the intersection of two perpendicular cylinders.
Liu Hui ialah seorang ahli matematik Cina yang tinggal di negeri Cao Wei semasa zaman Tiga Kerajaan (220–280) China. Pada tahun 263, beliau menulis sebuah buku dengan penyelesaian kepada masalah yang dibentangkan dalam buku matematik Cina yang terkenal, "Sembilan Bab tentang Seni Matematik". Dalam buku ini, dia mungkin ahli matematik pertama yang menemui, memahami dan menggunakan nombor negatif, sudah pasti sebelum ahli matematik India Brahmagupta. Dalam ulasannya mengenai Sembilan Bab, beliau membentangkan: Algoritma untuk pengiraan π (pi), penghapusan Gauss, prinsip Cavalieri untuk mencari isipadu silinder dan persilangan dua silinder berserenjang.
Rujukan:
https://lifethroughamathematicianseyes.wordpress.com/2015/01/17/the-sea-island-mathematical-manual/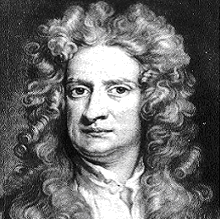 Sir Isaac Newton was an English physicist and mathematician born on January 4 1643 in Woolsthorpe Lincolnshire. He has been widely regarded as one of the most influential scientists of all time and as key figure in the scientific revolution. Newton formulated the laws of motion and gravitation, built the first practical reflecting telescope, formulated an empirical law of cooling, and studied the speed of light. He also made contributions to optics and shares credit with Gottfried Leibniz for the invention of infinitesimal calculus.
By far, Newton's most famous story is that when he developed the law of gravity. Young Isaac Newton first became interested in the force of gravity one day as he sat in contemplation under an apple tree and was suddenly struck on the head by a falling apple. The incident left Newton with a sore skull and a remarkable idea: what if gravity, the force that pulled apples out of trees, actually reached as high as the moon? From here, it was a short leap to the concept that Earth's gravity was responsible for keeping the moon in orbit and that the Sun's gravity was responsible for keeping the planets in orbit.
In 1687 Newton published his book Philosophiæ Naturalis Principa Mathematica "Mathematical Principles of Natural Philosophy" laid the foundations for most of classical mechanics and where he disclosed to the public his law of universal gravitation. Newton died on March 20, 1727.
Sir Isaac Newton ialah seorang ahli fizik dan matematik Inggeris yang dilahirkan pada 4 Januari 1643 di Woolsthorpe Lincolnshire. Beliau telah dianggap secara meluas sebagai salah seorang saintis paling berpengaruh sepanjang zaman dan sebagai tokoh utama dalam revolusi saintifik. Newton merumuskan undang-undang gerakan dan graviti, membina teleskop pemantul praktikal pertama, merumuskan undang-undang empirikal penyejukan, dan mengkaji kelajuan cahaya. Beliau juga membuat sumbangan kepada optik dan berkongsi kredit dengan Gottfried Leibniz untuk penciptaan kalkulus infinitesimal.
Setakat ini, cerita Newton yang paling terkenal ialah apabila dia membangunkan undang-undang graviti. Isaac Newton muda mula-mula berminat dengan daya graviti suatu hari ketika dia duduk merenung di bawah pokok epal dan tiba-tiba dipukul di kepala oleh epal yang jatuh. Insiden itu menyebabkan Newton sakit tengkorak dan idea yang luar biasa: bagaimana jika graviti, daya yang menarik epal keluar dari pokok, sebenarnya mencapai setinggi bulan? Dari sini, ia adalah satu lompatan singkat kepada konsep bahawa graviti Bumi bertanggungjawab untuk mengekalkan bulan dalam orbit dan bahawa graviti Matahari bertanggungjawab untuk mengekalkan planet dalam orbit.
Pada tahun 1687 Newton menerbitkan bukunya Philosophiæ Naturalis Principa Mathematica "Prinsip Matematik Falsafah Semula Jadi" meletakkan asas bagi kebanyakan mekanik klasik dan di mana beliau mendedahkan kepada umum undang-undang graviti universalnya. Newton meninggal dunia pada 20 Mac 1727.
Rujukan:
Burton, D.M. The History of Mathematics: An Introduction, 5th ed.; McGraw-Hill: New York, 2003.
http://www.newton.ac.uk/newtlife.html
http://www.bbc.co.uk/history/historic_figures/newton_isaac.shtml
http://www.dctech.com/eureka/short-stories/newton.php
http://en.wikipedia.org/wiki/Isaac_Newton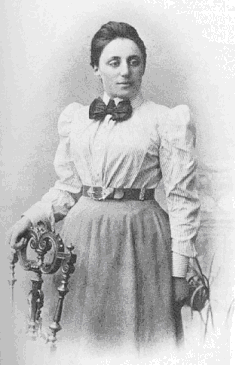 Emmy Noether, born in 1882, was a German mathematician who is well known for her incredible contributions to abstract algebra and theoretical physics. She was described as the most important woman in mathematics since she transformed the theories of algebras, rings, and fields.
She was initially going to teach English and French as she was qualified, but studied mathematics where her mathematician father taught at the University of Erlangen. In 1915, she joined the mathematics department at the University of Göttingen. Noether moved to the United States to work at Bryn Mawr College in Pennsylvania when she was dismissed from her university position for being Jewish. She died in 1935 four days after undergoing surgery for an ovarian cyst.
Emmy Noether, dilahirkan pada tahun 1882, adalah seorang ahli matematik Jerman yang terkenal dengan sumbangannya yang luar biasa kepada algebra abstrak dan fizik teori. Dia digambarkan sebagai wanita terpenting dalam matematik sejak dia mengubah teori algebra, cincin dan medan.
Dia pada mulanya akan mengajar bahasa Inggeris dan Perancis kerana dia layak, tetapi belajar matematik di mana bapa ahli matematiknya mengajar di Universiti Erlangen. Pada tahun 1915, beliau menyertai jabatan matematik di Universiti Göttingen. Noether berpindah ke Amerika Syarikat untuk bekerja di Kolej Bryn Mawr di Pennsylvania apabila dia dipecat daripada jawatan universitinya kerana menjadi seorang Yahudi. Dia meninggal dunia pada tahun 1935 empat hari selepas menjalani pembedahan untuk sista ovari.
Rujukan:
Musser, Gary. Burger, William. Peterson, Blake. Mathematics For Elementary Teachers: A Contemporary Approach, 6th ed.; Wiley.
https://en.wikipedia.org/wiki/Emmy_Noether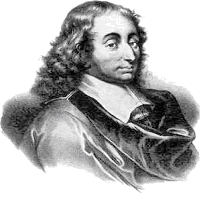 Blaise Pascal was born on June 19, 1623 in Clermont-Ferrand, France. Pascal was a French mathematician, physicist, inventor writer and Christian philosopher. He was a child prodigy who was educated by his father, a tax collector, in Rouen. Pascal's earliest work was focused on applied natural sciences where he made important contributions to the study of fluids.
In 1642, at the age of 18, inspired by the idea of making his father's job of calculating taxes easier, Pascal invented the pascaline, which is an early calculator. The pascaline was a numerical wheel calculator with eight movable dials, each representing a numerical digit, such as ones, tens, and hundreds. The pascaline calculator was proficient at carrying simple operations such as addition, subtraction, multiplication, and division.
Pascal continued to influence mathematics throughout his life. In 1653, his Traité du triangle arithmétique-Treatise on the Arithmetical Triangle was used as an efficient presentation for binomial coefficients, and it is now a day's known as Pascal's triangle. Initially, Pascal read about this triangle in a Chinese book. He studied it rigorously, and is credited by having the honour of this triangle being in his name.
Pascal struggled with insomnia and a painful digestive disorder called dyspepsia from the time he was a teen, and over the years, Pascal's constant work took a toll on his already fragile health.
Pascal died from malignant stomach tumor on August 19, 1662. By that time, the tumor had spread into his brain. He was 39 years old at the time of his death.
Blaise Pascal dilahirkan pada 19 Jun 1623 di Clermont-Ferrand, Perancis. Pascal ialah seorang ahli matematik Perancis, ahli fizik, penulis pencipta dan ahli falsafah Kristian. Dia seorang anak ajaib yang dididik oleh bapanya, seorang pemungut cukai, di Rouen. Kerja terawal Pascal tertumpu pada sains semula jadi gunaan di mana beliau membuat sumbangan penting kepada kajian bendalir.
Pada tahun 1642, pada usia 18 tahun, diilhamkan oleh idea untuk memudahkan kerja bapanya mengira cukai, Pascal mencipta pascaline, yang merupakan kalkulator awal. Pascaline ialah kalkulator roda berangka dengan lapan dail boleh alih, setiap satu mewakili digit berangka, seperti satu, puluh dan ratusan. Kalkulator pascaline mahir menjalankan operasi mudah seperti tambah, tolak, darab dan bahagi.
Pascal terus mempengaruhi matematik sepanjang hayatnya. Pada tahun 1653, Traité du triangle arithmétique-Treatise on the Arithmetical Triangle telah digunakan sebagai pembentangan yang cekap untuk pekali binomial, dan ia kini sehari dikenali sebagai segitiga Pascal. Pada mulanya, Pascal membaca tentang segi tiga ini dalam buku Cina. Dia mempelajarinya dengan teliti, dan dikreditkan dengan mendapat penghormatan segitiga ini atas namanya.
Pascal bergelut dengan insomnia dan gangguan pencernaan yang menyakitkan yang dipanggil dispepsia sejak dia remaja, dan selama bertahun-tahun, kerja berterusan Pascal telah menjejaskan kesihatannya yang sudah rapuh.
Pascal meninggal dunia akibat tumor perut ganas pada 19 Ogos 1662. Pada masa itu, tumor telah merebak ke otaknya. Dia berumur 39 tahun ketika kematiannya.
Rujukan:
http://www-history.mcs.st-andrews.ac.uk/Mathematicians/Pascal.html
Conway, John. Guy, Richard. The Book of Numbers. Copernicus Books.
http://en.wikipedia.org/wiki/Blaise_Pascal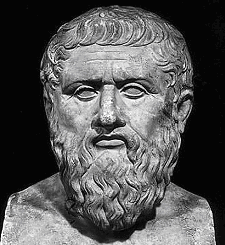 Plato was born to a wealthy family and was a student of the great philosopher Socrates. He was born in Athens, Greece, in 428 BC, and he is considered one of the most important Greek philosophers of history. Plato founded the Academy of Athens - it was an institution devoted to research and instruction in philosophy and the sciences. In fact, the sign above the Academy's entrance read "Let no-one ignorant of geometry enter here". There, students focused on important questions such as "What is the self?" and "What is human nature?". Aristotle was not only Plato's first student, but also one of his best. His works on philosophy, politics and mathematics were very influential and laid the foundations for Euclid's systematic approach to mathematics.
Plato studied the ontological status (categories of being) of mathematical objects. He is best known for his identification of the so-called Platonic Solids: the symmetrical, 3-dimensional tetrahedron, cube, octahedron, dodecahedron and icosahedron.
Plato dilahirkan dalam keluarga kaya dan merupakan pelajar kepada ahli falsafah agung Socrates. Dia dilahirkan di Athens, Greece, pada 428 SM, dan dia dianggap sebagai salah seorang ahli falsafah Yunani yang paling penting dalam sejarah. Plato mengasaskan Akademi Athens - ia adalah sebuah institusi yang dikhaskan untuk penyelidikan dan pengajaran dalam falsafah dan sains. Malah, papan tanda di atas pintu masuk Akademi berbunyi "Jangan biarkan sesiapa yang jahil tentang geometri masuk ke sini". Di sana, pelajar memberi tumpuan kepada soalan penting seperti "Apakah itu diri?" dan "Apakah sifat manusia?". Aristotle bukan sahaja pelajar pertama Plato, tetapi juga salah seorang yang terbaik. Karya beliau mengenai falsafah, politik dan matematik sangat berpengaruh dan meletakkan asas kepada pendekatan sistematik Euclid terhadap matematik.
Plato mengkaji status ontologi (kategori makhluk) objek matematik. Beliau terkenal kerana mengenal pasti apa yang dipanggil Pepejal Platonik: simetri, tetrahedron 3 dimensi, kubus, oktahedron, dodekahedron dan ikosahedron.
Rujukan:
Burton, D.M. The History of Mathematics: An Introduction, 5th ed.; McGraw-Hill: New York, 2003.
http://www.ourcivilisation.com/smartboard/shop/warnerr/plato.htm
http://www.storyofmathematics.com/greek_plato.html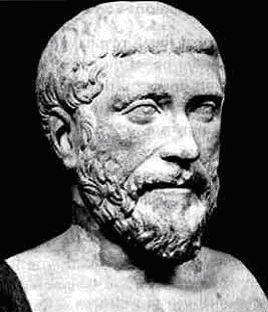 Pythagoras was a Greek mathematician born between 580 and 569 B.C. on the Aegean island Samos. Our knowledge of the life of Pythagoras is scanty, and little can be said with certainty. The information known to date about Pythagoras has been filtered down from early writers who competed with each other in inventing fables concerning his travels, miraculous powers, and teachings. Pythagoras founded a school in southern Italy; this school, considered an academy of philosophy, mathematics, and natural science developed into a closely interweaved brotherhood with secret rites and observances. The school tried strictly to regulate the diet and way of life of its members, and to impose a common method of education. The students of this school concentrated in four subjects of study: arithmetic, geometry, music, and astronomy. When Pythagoras was about 60 years old, he married one of his students, Theano. She was a remarkably able mathematician who inspired Pythagoras during the latter years of his life, and also contributed to broadcast his teaching system after his death. Long after Pythagoras' death in 500 B.C, the brotherhood continued to exist for at least two more centuries. Pythagoreans had strange initiations, rites and prohibitions. For example, they refused to eat beans, drink wine, and pick up anything that had fallen, or stir a fire with an iron. They insisted, in addition to these curious taboos, on a life of virtue, especially of friendship. The five pointed star, or pentagram, was used as a sign whereby members of the brotherhood could recognize one another.
Pythagoras is well known by his contribution in the area of geometry, and has been accredited with the Pythagorean Theorem within geometry. This theorem states that in a right- angled triangle the area of the square on the hypotenuse (the longest side of a right angled triangle) is equal to the sum of the areas of the squares of the other two sides, that is c2=a2+b2.
Pythagoras ialah seorang ahli matematik Yunani yang dilahirkan antara 580 dan 569 B.C. di pulau Aegean Samos. Pengetahuan kita tentang kehidupan Pythagoras adalah sedikit, dan sedikit yang boleh dikatakan dengan pasti. Maklumat yang diketahui setakat ini tentang Pythagoras telah ditapis daripada penulis awal yang bersaing antara satu sama lain dalam mencipta dongeng mengenai pengembaraannya, kuasa ajaib, dan ajarannya. Pythagoras mengasaskan sebuah sekolah di selatan Itali; sekolah ini, yang dianggap sebagai akademi falsafah, matematik, dan sains semula jadi berkembang menjadi persaudaraan yang terjalin rapat dengan upacara dan upacara rahsia. Sekolah itu cuba ketat untuk mengawal pemakanan dan cara hidup ahlinya, dan untuk mengenakan kaedah pendidikan yang sama. Pelajar sekolah ini menumpukan perhatian dalam empat mata pelajaran: aritmetik, geometri, muzik, dan astronomi. Apabila Pythagoras berumur kira-kira 60 tahun, dia berkahwin dengan salah seorang pelajarnya, Theano. Dia adalah seorang ahli matematik yang sangat berkebolehan yang memberi inspirasi kepada Pythagoras semasa tahun-tahun terakhir hidupnya, dan juga menyumbang untuk menyiarkan sistem pengajarannya selepas kematiannya. Lama selepas kematian Pythagoras pada 500 B.C, persaudaraan terus wujud sekurang-kurangnya dua abad lagi. Pythagoras mempunyai inisiasi, upacara dan larangan yang aneh. Contohnya, mereka enggan makan kacang, minum wain, dan mengambil apa-apa yang jatuh, atau menyalakan api dengan besi. Mereka menegaskan, sebagai tambahan kepada pantang larang yang ingin tahu ini, mengenai kehidupan yang mulia, terutamanya persahabatan. Bintang berbucu lima, atau pentagram, digunakan sebagai tanda di mana ahli persaudaraan dapat mengenali satu sama lain.
Pythagoras terkenal dengan sumbangannya dalam bidang geometri, dan telah diakreditasi dengan Teorem Pythagoras dalam geometri. Teorem ini menyatakan bahawa dalam segi tiga bersudut tegak luas segi empat sama pada hipotenus (sisi terpanjang bagi segi tiga bersudut tegak) adalah sama dengan jumlah luas segi empat sama dua sisi yang lain, iaitu c2=a2+b2.
Rujukan:
Burton, D.M. The History of Mathematics: An Introduction, 5th ed.; McGraw-Hill: New York, 2003.
Musser, Gary. Burger, William. Peterson, Blake. Mathematics For Elementary Teachers: A Contemporary Approach, 6th ed.; Wiley.
http://www-groups.dcs.st-and.ac.uk/history/Biographies/Pythagoras.html
http://en.wikipedia.org/wiki/Pythagoras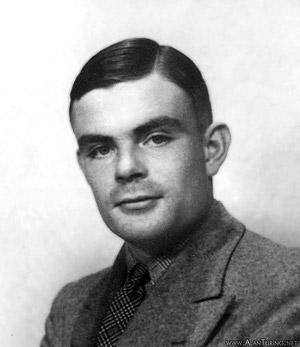 Alan Turing, born on June 23, 1912, was a British mathematician, logician, cryptanalyst, and computer scientist. He gave definitions of the concepts of algorithm and computation with his Turing machine, which is essentially a model of a computer. He was also responsible for decoding German messages during World War II.
After World War II, he designed the ACE at the National Physics Laboratory, which is a stored-program computer. He then helped develop Manchester computers at Manchester University, ultimately leading him to become fascinated by mathematical biology, writing several papers on this subject.
His homosexuality leaded to him being prosecuted in the United Kingdom in 1952. He accepted being injected with female hormones rather than going to jail. He died on June 7, 1954 due to cyanide poisoning. Whether it was suicide or an accident is still unknown to date. However, he was found dead with a half-eaten apple beside him, and he was a big fan of Snow White and the Seven Dwarfs... enough said.
Alan Turing, dilahirkan pada 23 Jun 1912, ialah seorang ahli matematik, logik, cryptanalyst dan saintis komputer British. Beliau memberikan definisi konsep algoritma dan pengiraan dengan mesin Turingnya, yang pada asasnya adalah model komputer. Dia juga bertanggungjawab untuk menyahkod mesej Jerman semasa Perang Dunia II.
Selepas Perang Dunia II, beliau mereka bentuk ACE di Makmal Fizik Kebangsaan, yang merupakan komputer atur cara yang disimpan. Dia kemudian membantu membangunkan komputer Manchester di Universiti Manchester, akhirnya membawanya untuk menjadi terpesona dengan biologi matematik, menulis beberapa kertas mengenai subjek ini.
Homoseksualnya menyebabkan dia didakwa di United Kingdom pada tahun 1952. Dia menerima disuntik hormon wanita daripada masuk penjara. Dia meninggal dunia pada 7 Jun 1954 akibat keracunan sianida. Sama ada bunuh diri atau kemalangan masih tidak diketahui sehingga kini. Bagaimanapun, dia ditemui mati dengan sebiji epal yang dimakan separuh di sebelahnya, dan dia adalah peminat setia Snow White dan Seven Dwarfs... cukuplah dikatakan.
Rujukan:
http://www.alanturing.net/
http://en.wikipedia.org/wiki/Alan_Turing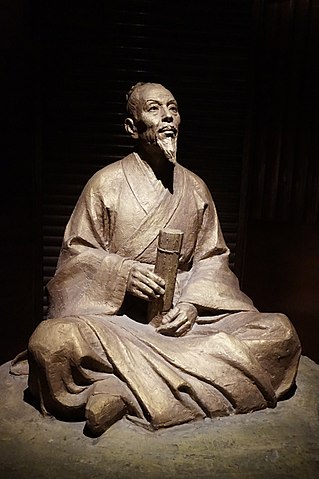 Zu Chongzhi (429-500 AD), courtesy name Wenyuan, was a Chinese mathematician, astronomer, writer and politician during the Liu Song and Southern Qi dynasties.
One of his famous achievements is deriving two approximations of pi, (3.1415926535897932...) which held as the most accurate approximation for π for over nine hundred years. His best approximation was between 3.1415926 and 3.1415927, with 355/113 (密率, close ratio) and 22/7 (約率, approximate ratio) being the other notable approximations. He obtained the result by approximating a circle with a 24,576 (= 213 × 3) sided polygon. This was an impressive feat for the time, especially considering that the device Counting rods he used for recording intermediate results were merely a pile of wooden sticks laid out in certain patterns.
Zu Chongzhi (429-500 AD), nama ihsan Wenyuan, adalah seorang ahli matematik, ahli astronomi, penulis dan ahli politik China semasa Liu Song dan dinasti Qi Selatan.
Salah satu pencapaiannya yang terkenal ialah memperoleh dua anggaran pi, (3.1415926535897932...) yang dipegang sebagai anggaran paling tepat untuk π selama lebih sembilan ratus tahun. Anggaran terbaik beliau ialah antara 3.1415926 dan 3.1415927, dengan 355/113 (密率, nisbah rapat) dan 22/7 (約率, nisbah anggaran) sebagai anggaran ketara yang lain. Dia memperoleh keputusan dengan menghampiri bulatan dengan poligon bersisi 24,576 (= 213 × 3). Ini adalah satu pencapaian yang mengagumkan pada masa itu, terutamanya memandangkan bahawa alat pengira batang yang digunakannya untuk merekod keputusan pertengahan hanyalah timbunan batang kayu yang dibentangkan dalam corak tertentu.
Rujukan:
https://en.wikipedia.org/wiki/Zu_Chongzhi